Which Rod Bearings to Use for the BMW S65 and S85: WPC, BE, or ACL?
Over the years there has been a lot of discussion on what might be causing premature bearing failure on the S85 engine in the E60 M5 and the S65 engine in the E90/92 M3. Very early on people did some measuring on bearings and found that the rod bearing clearance on stock motors was a bit tighter than BMW has used in previous M series engines, and tighter than the commonly accepted bearing clearances. There are several theories for why BMW might have intentionally done this on these engines but I won't get into those here. Our belief is that bearing clearance may play a role in premature failure, but it's also possible that other factors play a role. Historically many BMW S series engines have suffered premature rod bearing failure despite having industry acceptable bearing clearances. Other factors such as insufficient bearing surface area, insufficient oil pressure and excessive detonation could all play a role to accelerate bearing wear.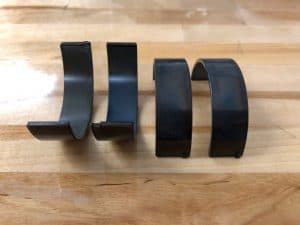 Unfortunately it is impossible for the aftermarket world of engine builders to determine the exact cause of why this is happening, what we do know is that regular replacement of rod bearings will prevent engine failure on these engines.
We saw some variance in crankshaft journal diameters which seemed to indicate that stock clearances were in the .0016 to .0021, depending on who you asked and what crankshaft was measured. Most engine builders would agree this is too tight and we would prefer to see closer to .0025″ for this journal which is almost exactly 2.0465″ on average. Unfortunately we also noticed that these crankshafts seemed to have about .0005″ tolerance on these journals. This amount of variance wasn't a good match for tight clearances.
The question remains, what bearing would be best to use during these bearing replacements? Early on a lot of options didn't exist. Since BMW bearings were the only option, we tried to open them up a bit using WPC treatment. While WPC claims their treatment doesn't modify clearances in a significant way, we had seen in the past that on bearings we would often get increases in clearance of .0002″ to .0003″, not a significant amount but it would help.
Down the line BE bearings started selling Clevite bearings. BE was able to achieve a nominal clearance of .0024″ by using a STD bearing on the rod side and a .001″ oversize bearing on the cap side, this is common practice when building race engines to achieve ideal bearing clearances. Early on the BMW bearings with WPC treatment were still a bit cheaper than BE bearings, so many people continued to purchase WPC bearings. Unfortunately cost on Genuine BMW bearings went up considerably and BE bearings became the lowest cost solution for doing rod bearing replacements and achieving industry accepted rod bearing clearance.
In 2018 ACL began to make rod bearings for the S65 and S85 in two varieties, a STD size and an HX (.001) oversize. The cost of these bearings was considerably less than both the BE and Genuine BMW alternatives so we decided to purchase both sets and measure them. We found the STD ACL bearings to be just slightly tighter on average than Genuine BMW bearings, on average they produced about .0018″ clearance, we were not comfortable selling these to our customers or installing them in the cars we service. Similarly the HX bearing is a bit to loose producing around .0028″ clearance. We decided to implement the same solution BE did with Clevite bearings on the ACL products. We were able to achieve a similar .0024″ rod bearing clearance using this method and this has become our "go to" bearing at the the shop. The ACL bearings share many of the beneficial features that the Clevite bearings carry, with the added benefit of reduced cost. At the time of this writing the ACL bearings are less than half the cost of BE bearings and about 1/3 the cost of the Genuine BMW WPC treated bearings.