Dyno Tuning
Lang Racing Development has the only AWD Mustang dyno in Lake Forest. Using the Mustang AWD-500-SE allows us to tune both AWD and 2WD vehicles. Not all dynos are created equal and utilizing the latest technology in eddy current resistance our dyno allows us to tune to a more realistic real world application.
We customize every dyno tuning session to meet the performance needs of our client. We stand behind our exclusive tunes with guaranteed results. As with the rest of our services, our tunes are specialized for BMW, Porsche, Mercedes and many other makes.
We have engine tunes addressing:
Horsepower
Torque
Driveability
Overall Performance
Our tuning options vary and can be customized for each project. We currently offer:
ECU Tuning (through flashing over OBD)
ECU tuning via bench flashing
Piggyback and standalone Engine Management systems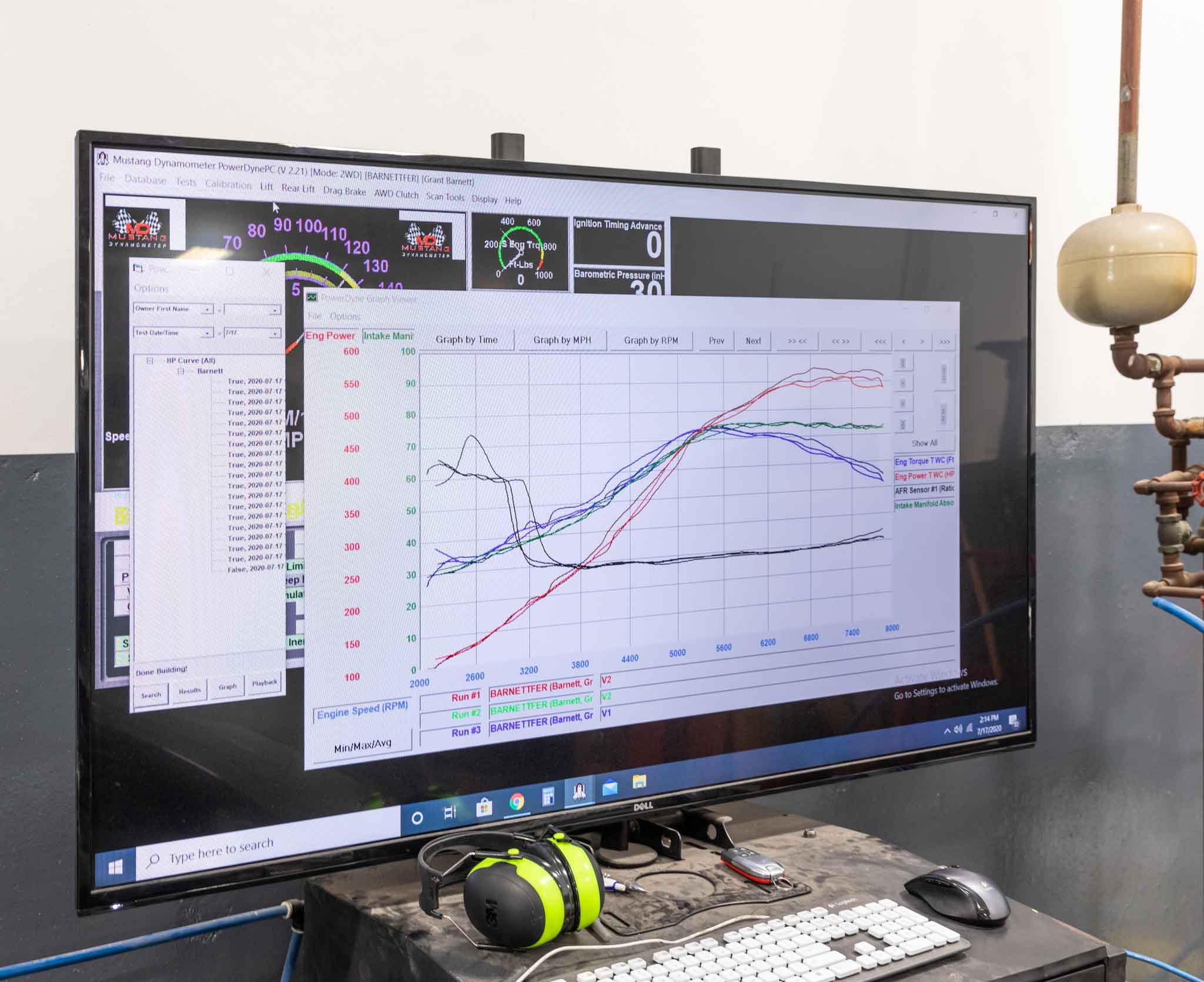 Dyno and Tuning Appointments:
The standard tuning appointments go as follows:
Before you set up your appointment, please ensure your vehicle is READY for the dyno! Download our CHECKLIST for dyno readiness. Make sure you and the vehicle are ready to go so we can avoid any delays or additional costs. While we are a full service shop, dyno appointments are not scheduled for diagnosing or fixing mechanical issues. We like to focus on the job – which is getting the best performance out of your vehicle. It's important that you know, to the best of your ability, that the vehicle is in optimal operating condition at the time of your appointment. If you're not sure, let us know and we'll help figure out where you're at.
Once you've reviewed the checklist, give us a call at (949) 667-4397 – or use our contact form to set up an appointment.
Make sure to fully fill out the Dyno Waiver and bring it with you for the appointment.
Once in the shop, we'll take a look and make sure everything is ready to go for tuning.
One of our team members will load your vehicle onto the dyno and tune to your specifications and/or selections.
Rates and Services:
$175/Hour RWD: Includes 3 basic pulls and AFR
$200/Hour AWD: Includes 3 basic pulls and AFR
NOTE – Many client remember that at our old location, due to temporary noise restrictions the Dyno was only available after 5pm on weekdays and all day on weekends. Those restrictions are not in effect at our new facility and the Dyno is available during ALL business hours.
About The Mustang Dyno:
Mustang Dynamometers are unique. All Mustang Dynamometers are loading dynamometers designed to duplicate real world operating conditions. Their patented control system uses eddy current power absorbers to load a vehicle exactly the way it would be loaded on the street – including wind resistance, which is a significant factor in high-speed testing. Mustang dynos also feature a load cell to measure the power being applied to the rolls. Without going into a lot of theory, a Mustang dyno gives you a real world tune, every time.
The MD-AWD-500-SE tests both axles of the test vehicle under the same imposed load; while at the same time providing for front-to-rear axle speed synchronization. Front-to-back roller speed synchronization protects AWD center differentials. This provides for a means to safely test vehicles with traction control, and allows for testing to be performed under real-world load conditions. With a maximum power measurement of 2,500 hp the MD-AWD-500-SE is designed to handle a broad range of performance race car testing to diagnostics and emissions repair on every day drivers.
The MD-AWD-500-SE accommodates wheelbases from 88 to 118 inches without moving parts. A breakable coupling allows for a means to disengage the system from AWD mode to two wheel drive mode.
We specialize in BMW and Porsche and can facilitate remote tuning for your stock ECU as well as diagnose and troubleshoot problems while on the dyno.