Whether it's a simple and economical rebuild for your street car or trying to get every last bit of horsepower out of a race engine, we can put together a package for you whatever your budget may be. We stand behind all engines we build with one of the most comprehensive warranties in the industry. We offer complete engine removal, tear down, inspection, assembly and re installation at our Irvine facility. If you think you're in the market for an engine rebuild we're the first place to call.
A purpose built engine differs from an engine that is delivered in a car from the manufacturer. The engine that comes in a production car is meant to make a particular amount of horsepower and do it with some kind of reliability that is acceptable to the general public, within a particular price range. Often times though we want something different from that engine, whether it is increased reliability, increased power output, or in most cases, both. A purpose built engine can achieve many things that the factory built engine cannot, all engines are a compromise of three things:
Reliability
Power
Cost
What we specialize in is balancing these three factors to redesign a factory engine and build an engine that meets your specific requirements. Using our partners at CP-Carrillo we are able to make single runs of custom rods and pistons for stroker engines, destroked engines, forced induction engines, and everything in between. We are able to custom design crankshafts for high end builds that can either maximize the available stroke in an engine block, or even reduce stroke to rev the engine to a higher RPM and make big horsepower numbers.  When required we can also design and produce crankshafts that will specifically meet the demands you need, whether that is modified journal dimensions, stroke, or weight. Our cylinder head program allows us to modify cylinder heads to achieve the flow you require while also using high quality components from Supertech and Schrick allow for higher RPM, larger cams, and increased horsepower by reducing valve train weight. We are also able to suggest the proper cam lift and duration for your particular engine and supply the highest quality Schrick cams that will meet your engines requirements.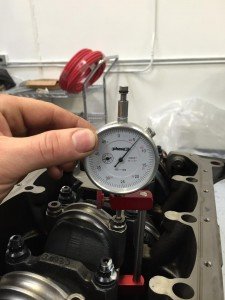 While we specialize in BMW Motorsport engines like the S14, S54, S65 and S85 we are more than happy to assist you in designing and producing custom parts for any engine you might be dreaming of. While we are known for assembling our own custom engines we have many race team customers around the world who use our expertise in engine components to supply them with all the parts they need to assemble their engines in house.  Contact us about your specific needs.